---
THE LIFE & MINISTRY OF HOLOCAUST SURVIVOR
Zvi Kalisher (1928-2014)
---
Featuring Zvi's Apples of Gold audio stories.
---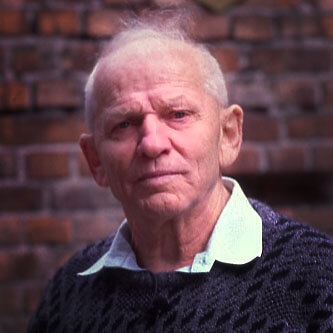 ---
Zvi Kalisher
---
As a 10-year-old Jewish boy living in Poland in 1939, Zvi Kalisher found himself facing the evils of the Holocaust.
Miraculously, he survived and, in 1948, settled in Israel, the country he would call his new home. It was there Zvi was introduced to Jesus the Messiah, whom he loved and served wholeheartedly and spent the rest of his life introducing to others.
The life story of Zvi and how he faithfully witnessed for the Messiah is one that will endure for generations to come.
Above all, it is the story of God's sovereign ability to raise up those who will leave an enduring legacy of His power and grace.
---
ZVI'S TESTIMONY
WORDS OF TRIBUTE
Free Video Resource
---
ZVI: The Return
---
In this 75 minute video, Zvi visits his childhood home in Warsaw, Poland, and reflects on his experiences more than half a century after the Holocaust. This highly acclaimed documentary chronicles Zvi's return and reenacts his life during World War II and his immigration to Israel in 1948.
WATCH THE VIDEO
---
Apples of Gold
A word fitly spoken is like apples of gold in settings of silver.
-Proverbs 25:11
---
After his conversion, Zvi Kalisher began documenting his daily spiritual conversations with his countrymen in Israel. For five decades, his telling of these encounters have enriched lives and encouraged countless thousands of believers the world over.
These stories eventually became known as Apples of Gold and have been published in our magazine, Israel My Glory, since 1959.
With the 2015 launch of our current radio program, The Friends of Israel Today, we introduced the audio versions of these stories voiced by long-time Moody Bible radio host, Mike Kellogg.
Below you'll find a selection of the best of these dramatic readings of Zvi Kalisher's life-changing stories.
Reader / Listener Favorites
---
Dramatic readings of Zvi Kalishers life-changing encounters with his countrymen in Israel. Voiced by Mike Kellogg.
---
Has Zvi's stories left you with questions regarding who Jesus is and how to come to know Him?
---
Learn More About Jesus
---
The life and ministry of Zvi Kalisher is an enduring example of how to bring the gospel to the Jewish people in love and truth. Our goal today is the same as Zvi's was. His commitment to evangelism mirrors our mission and our workers are fully devoted to this task, but there are many that still need to hear the gospel and experience the joy it provides. We ask for your prayers and financial gifts to effectively send out laborers to the harvest.
Will you partner with us?
---
GIVE TODAY
---
---
Mike Kellogg
---
The Voice of Zvi Kalisher
---
Apples of Gold audio stories were voiced by Mike Kellogg. Mike was in newspaper and radio news and production for almost 50 years, both in secular and Christian venues. In 2014 he retired from Moody Radio after 42 years. He narrated the first recorded version of the NLT version of the Bible. For nearly 30 years he taught at Moody Bible Institute as adjunct professor in communications.
He and his wife, Nancy Smith Kellogg, consider their greatest ongoing accomplishment, to be rearing their six children and 17 grandchildren.
Partner with a short-term volunteer
Do you have a friend or family member participating in one of our short-term programs? You can help them with a gift.
Gifts given to support specific team members are fully tax deductible.
(Please note, we can only accept support for FOI approved team members.)
Donate using Canadian currency.