THE FRIENDS OF ISRAEL GOSPEL MINISTRY—CANADA PRESENTS:

---
NATIONAL BIBLE CONFERENCE TOUR
The Friends of Israel Gospel Ministry–Canada was launched in 1998 in a joint ministry venture as the Canadian arm of the highly respected Friends of Israel Gospel Ministry.
Robert Gottselig is the Canadian Director of The Friends of Israel Gospel Ministry–Canada. Our office is conveniently situated in Toronto, Ontario.
The Friends of Israel Gospel Ministry–Canada actively ministers throughout Canada in a variety of venues hosting Bible conferences, prophecy conferences, and speaking in churches. In our outreach, literature distribution, and radio broadcasts in six Canadian markets, The Friends of Israel Gospel Ministry is a worldwide evangelical ministry proclaiming biblical truth about Israel and the Messiah, while bringing physical and spiritual comfort to the Jewish people.
For more information or to schedule events in your area, phone the office at (905) 457-6830; toll free at (888) 664-2584; or contact us here.
UP TO JERUSALEM TOUR—CANADA
Journey To the Land of the Bible
---
Dear Friends:
Come with us to Israel! From Tel Aviv to Jerusalem and beyond!
It is our joy to take friends—both new and old—to Israel. From the time we step off the plane and make our way to the shores of the Sea of Galilee to the time we arrive in the Holy City of Jerusalem, we love watching the joy on people's faces as they see these meaningful sights.
---
---
UPCOMING TOUR
FEBRUARY 5-15, 2024
$4,479 per person (double occupancy)
---
VIEW ITINERARY
---
VIEW APPLICATION FORM
---
---
Canada Up Close e-Newsletter
SIGN UP TODAY!
---
Sign up for content and resource updates from The Friends of Israel—Canada.
---
Upcoming National Prophecy Conference
---
JOIN US
FOR A WEEKLY ONLINE BIBLE STUDY
"Table Talk With Dr. Dan" is a free, weekly, online Bible study that takes place in the comfort of your own home. Designed for men and women who want to gain a deeper understanding of the Word of God, learn Bible prophecy as it relates to the church, Israel, and the Jewish people, and learn how to properly read and study their Bible from a literal, dispensational perspective.
When:
Every Tuesday evening at 8:00 PM (CST)
How to Register:
While our online Bible study is free, you must register in advance. Contact Dan with any questions - dbowers@foi.org.
(After registering, you will receive a confirmation email containing information about joining the free weekly Bible study.)
---
Remember Pin
---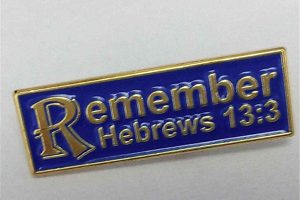 If you would like to receive a free Remember Pin, please fill out the following form. (One per household. Additional pins can be purchased for $3 each. Please call 1-888-664-2584 to order.) *For Canadian residents only.