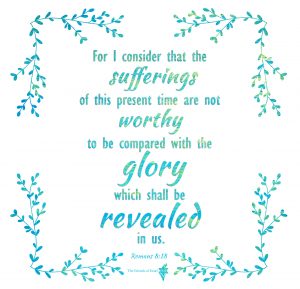 Suffering is a part of our life. Since the fall of man, the corrupted world has produced great suffering to many people. I am sure in your life there were moments in which you felt this thorn of corruption. The very moment we enter this world, we create pain for others. And when we finally leave this world, those we came to love are saddened by our absence. Pain is part of being human as a result of our sinful nature.
As we enter the family of Christ, becoming the "heirs of God and fellow heirs with Christ" (Romans 8:17), we are not promised to be delivered from the pain of this present time. In fact, as Paul writes in his letter to Philippians, there may be times when believers are granted specific suffering for the sake of Christ (Philippians 1:29). The apostle Paul certainly was an individual who knew much about suffering. He writes to the saints in Corinth that he experienced every kind of suffering––beating, imprisonment, sleepless nights, and hunger (2 Corinthians 6:4–5; 11:23–28). In the book of Acts there are several examples of him suffering: he is kidnapped (Acts 21:27); beaten (Acts 21:30–31); arrested many times (Acts 21:33; 22:24, 31; 23:35; 28:16); accused in lawsuits (Acts 21:34; 22:30; 24:1-2; 25:2, 7; 28:4; interrogated (Acts 25:24–27); ridiculed (Acts 26:24); ignored (Acts 27:11); shipwrecked (Acts 27:41); and bitten by a viper (Acts 28:3). Although it is not mentioned anywhere in the Bible, tradition says that Paul was executed for his ministry. 
But, for the apostle Paul, the pain of this age should not be our focus. It doesn't  matter if the pain is a result of this corrupted world or persecution that believers experience due to their faith in Jesus Christ. We should never forget the glory that is promised ahead of us. Paul writes that all the suffering can't be compared to the marvelous future that awaits the believers. It is not a reality that will be created in the future, but as Paul writes, it is a reality that is revealed. In other words, it already exists and awaits those who trust in Christ. And therefore, as we read in Philippians, our citizenship is in heaven; secure and waiting for us to be experienced (Philippians 3:20).
What a wonderful promise it is. A promise that enables us to look over all our daily troubles, realizing that one day our bodies will be redeemed from corruption and enter a reality prepared for us by Christ Himself. May the day when His feet will touch the Mount of Olives come soon!