Israel My Glory
Print and Digital Subscriptions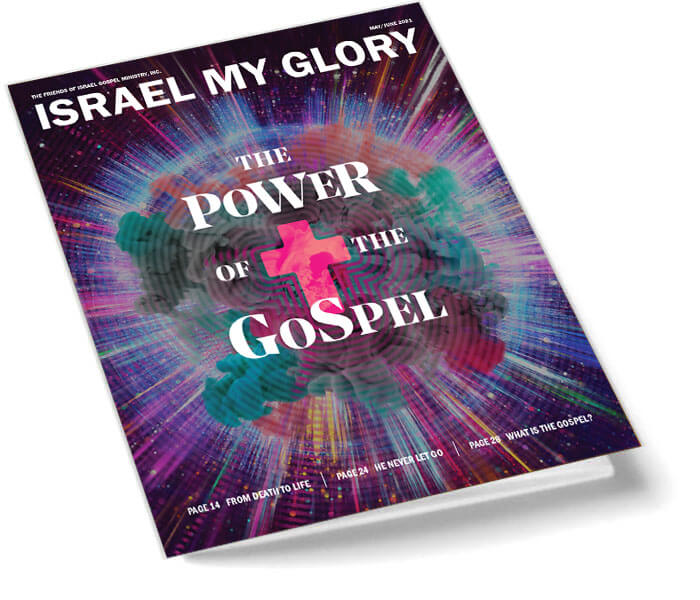 Since 1942, Israel My Glory has been a highly trusted, sought-after tool in the study of God's Word.
This award-winning magazine, published by The Friends of Israel Gospel Ministry, stands firmly on the literal-grammatical interpretation of the Bible. It is simply the best there is if you want to understand Scripture, Israel, and Prophecy .
Each issue contains:
➔ Important news from Israel
➔ Exciting studies from the Scriptures
➔ Timely, insightful articles on trends that impact Israel and the Christian world
➔ Doctrinal issues
➔ Vital information on the persecuted Church
➔ Apples of Gold, archived stories from the life and ministry of Holocaust survivor, Zvi Kalisher
Israel My Glory is an award-winning, bi-monthly magazine.
We offer 1, 2 and 3 year U.S. and non-U.S. print subscriptions.
If you reside in Canada, please subscribe here.
SUBSCRIBE
If you'd like to renew your print subscription, simply purchase a new one and it will be added on to whatever may be remaining on your current subscription.
If you reside in Canada, please renew here.
RENEW
We offer 1, 2 and 3 year digital subscriptions with or without access to our growing archive of past magazines. You can view the digital magazine at israelmyglory.org.
SUBSCRIBE
If you prefer to access Digital Israel My Glory with a mobile app you can subscribe after installing it.
iPHONE/iPAD
ANDROID