It's smiling at sales clerks and thanking them by name (if they are wearing a name tag). It's asking a waitress how you can pray for her.
It's sewing a button on an elderly friend's shirt, because his hands shake too much to do it himself. It's fixing an elderly woman's garbage disposal because she dropped a popsicle stick down it––again. It's volunteering your time at the local food pantry, being able to give food to those who don't have it. It's taking that hurting friend out for coffee and listening with compassion to her broken heart. It's calling that lonely soul you met last month and letting him know that someone in this big, big world knows his number and cares enough to call.
It's going to the baseball game of the kid from church, just so he can look in the stands and see an adult who cares about him and is rooting for him. It's helping a college student study for that next killer exam. It's setting up chairs for that church event. It's cleaning up garbage from that last community event. It's following our Master's example and stooping down to wash another's feet. (John 13:1–17)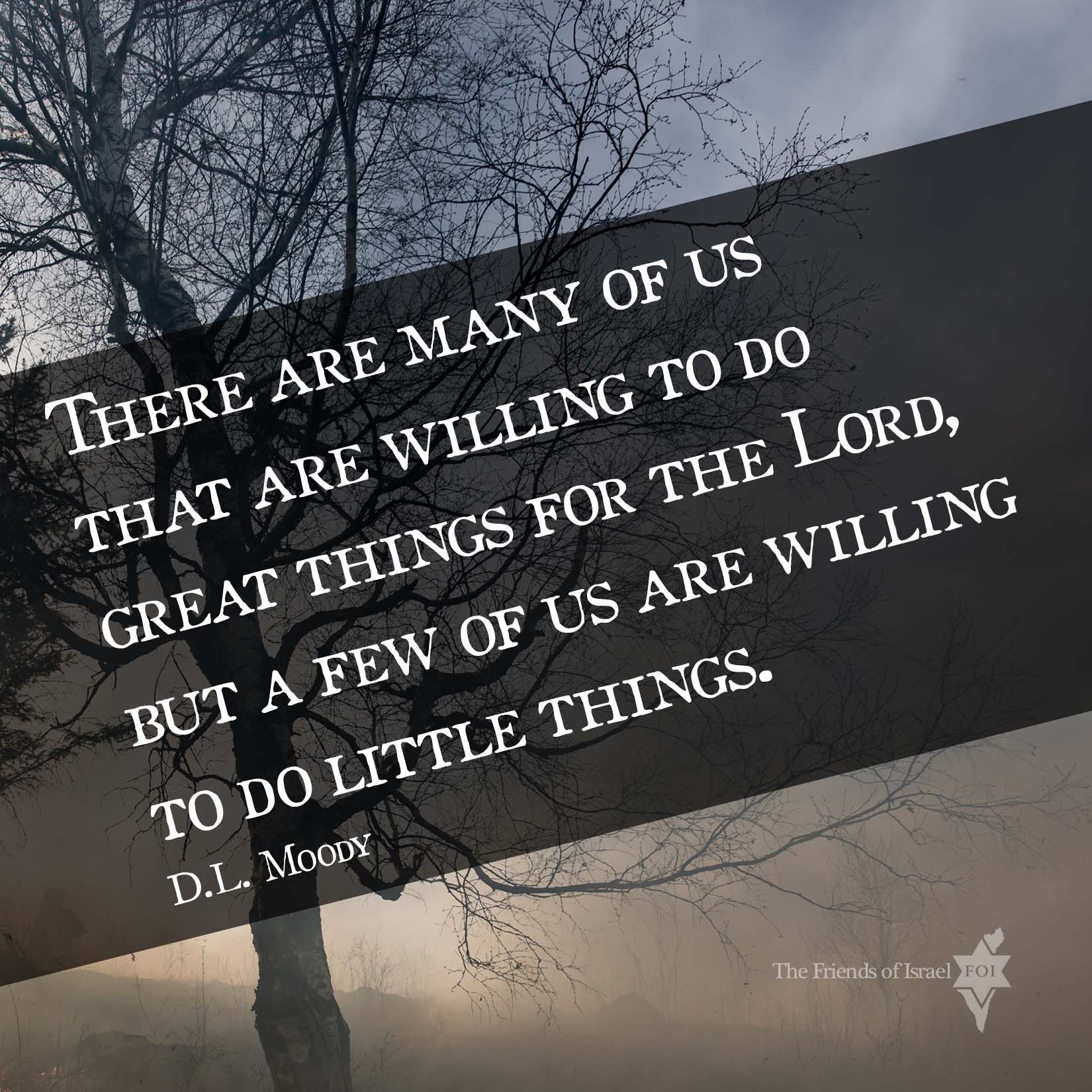 Imagine the awkward silence in the upper room that night. Yeshua was preparing to eat the Passover dinner with His disciples, when He grabbed a towel, filled a basin with water, and began washing their dirty feet. By custom, the lowest servant of the household would wash the feet of guests who arrived. Simon Peter, feeling the awkwardness of this violation of social order, cried out, "No! Not my feet, Lord! Never!" Leave it to Simon Peter to mess up a perfectly good teaching illustration! Yeshua soon set him straight by explaining His act of service as an example to follow.
By assuming this position of humble service, Yeshua set an example for all His disciples to follow. The servant is not greater than his lord. Do you call Yeshua, Lord? Are you His disciple? Is He your Master? Then follow Him in this: Serve others in the little things.
Have you ever been challenged to "Do GREAT THINGS for God!"? Don't. Don't do it. He hasn't called us to do great things for Him. He's called us to follow His example of humbly serving others and faithfully obeying the Father's will (Matthew 11:28–30; 1 Peter 2:21; Philippians 2:5–11).
"Whether therefore ye eat, or drink, or whatsoever ye do, do all to the glory of God"(1 Corinthians 10:31).
Kittie L. Suffield wrote a hymn called "Little Is Much When God Is in It"––a great truth about little things! May we follow our Master in the little things!

In the harvest field now ripened
There's a work for all to do;
Hark! the voice of God is calling,
To the harvest calling you.

Refrain:
Little is much when God is in it!
Labor not for wealth or fame;
There's a crown, and you can win it,
If you go in Jesus' name.
In the mad rush of the broad way,
In the hurry and the strife,
Tell of Jesus' love and mercy,
Give to them the Word of Life.
Does the place you're called to labor
Seem so small and little known?
It is great if God is in it,
And He'll not forget His own.

Are you laid aside from service,
Body worn from toil and care?
You can still be in the battle,
In the sacred place of prayer.
When the conflict here is ended
And our race on earth is run,
He will say, if we are faithful,
"Welcome home, My child—well done!"