Many centuries ago, King Solomon wrote that "The glory of young men is their strength, and the splendor of old men is their gray head" (Proverbs 20:29).
Unfortunately, that youthful strength and aged splendor seldom come into meaningful contact with each other.
Much has been written about the Western culture's obsession with youth and its loathing of age, which undoubtedly contributes to this ever-widening gap between young and old. Our young are kept busy with the cares of the moment and our elderly are sequestered away in their retirement communities and nursing homes, and never the twain shall meet…well, almost never.
In a small way, we are able to understand a bit better the love God has for us when we care for other people.
A few years ago, I met Marton, a slight, blue-eyed, gray-haired man with a thick, Hungarian accent that often slips into Spanish, inadvertently. (Don't we all have that problem?)
Born in Mexico City to Jewish immigrants from Hungary, who moved to Mexico for work, Marton's life has not been an easy one. When still a very young boy, his mother fled Mexico, taking him, his older brother, and their unborn sister back to Budapest. There they lived with Marton's grandmother and shared in her deeply-rooted Jewish traditions, as well as her poverty.
In 1944, Nazi Germany occupied Hungary, and Marton's life changed forever. He and his brother were separated from the rest of their family, and experienced the tragic realities of the Holocaust. From the starvation that accompanied life in the Budapest ghetto to death marches across the the Hungarian countryside, Marton lost his innocence and his faith during this trial.
Given Marton's tremendously difficult past and my comparatively privileged life, not to mention the six-decade age gap, our friendship is an unlikely one; but friends we are. We play endless rounds of Uno, which Marton almost always wins, much to his delight. We go to events in the Jewish community and attend gatherings of other Holocaust survivors. And we go to lunch, always to lunch, where we talk about current events, politics, the Holocaust, God, the Bible, and—Marton's favorite topic—my unborn daughter, Charlotte, to whom Marton will be "Zeyde" (Yiddish for "Grandfather").
As Marton ages, and as his mobility becomes increasingly limited, I have the privilege—and I mean that—of caring for him in various ways. Trips to the doctor, drop-offs and pick-ups at the pharmacy, reminders for him to take his medications, and even eye drop applications.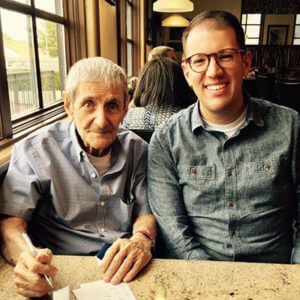 Marton is quick to thank me for helping him in these ways, and does so often. But the truth is, his friendship has benefited me a great deal too, and has brought great joy to my life, as the Lord has used my friendship with Marton to teach me more about Himself.
The apostle Peter reminds us that we should cast all our care upon the Lord, because He cares for us (1 Peter 5:7). In a small way, we are able to understand a bit better the love God has for us when we care for other people. When those we love need our help, there is no question of whether or not we have the time to care for them. We make time. We do it, even if it involves some small sacrifice on our part. We invite them to cast their cares upon us.
From assisting with routine things like driving to doctor's appointments and putting in eye drops, to more weighty matters, like listening to a friend whose haunting memories of the Holocaust make for sleepless nights, caring for others also reminds us of our own deep, spiritual frailty and weakness.
The Scriptures remind believers that there was a time when we "were without Christ…having no hope and without God in the world" (Ephesians 2:12). The Lord cared for us in our hopelessness by demonstrating "His own love toward us, in that while we were still sinners, Christ died for us" (Romans 5:8); and we, "who once were far off have been brought near by the blood of Christ" (Ephesians 2:13).
There is, indeed, a surprising joy that develops in your heart, when you have the privilege of caring for another person, for in doing so, you are reminded of both your own helplessness and of the One who cares for your soul. And I can think of no better way to cultivate such a joy than for the strength of youth and the aged-splendor of the gray-headed to come together.