CRACK!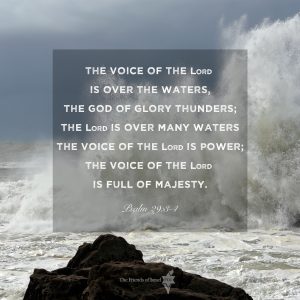 I opened my eyes and found myself sitting in the camp director's lap as splintered wood lay scattered around us. Just a moment ago, I was sitting calmly beside her on the front porch of the office building, watching another summer storm roll in. It took about two seconds for our brains to process that lightning had just struck the tree across the street, and we quickly scurried inside to safety. Great forces of nature often remind us of how small and powerless we truly are.
"The voice of the LORD is over the waters; the God of glory thunders; the LORD is over many waters. The voice of the LORD is powerful; the voice of the LORD is full of majesty" (Psalm 29:3–4).
This beautiful piece of Hebrew poetry uses forces of nature to paint a picture of the power and majesty of the one true sovereign God, YHWH––the great "I AM." The creative omnipotent voice that said, "Let there be…" in the beginning, is the same voice that said, "Where are you?" to Adam after his disobedience in the garden. This same voice told Noah to build an ark, promised Abraham an eternal seed and land, spoke the Law to Moses on Mt. Sinai, and promised David an eternal seed and an eternal throne.  The correct human response to such a voice is reverential fear, faith, and obedience.
"Let us cross over to the other side" (Mark 4:35).  Exhausted after a long day teaching by the beautiful Sea of Galilee, Jesus fell fast asleep on the cushion in the stern of the boat. This "Sea" is really more of a lake (15 miles long; 8 miles wide; 690 ft. below sea level). The hills that surround this lake make sudden winds a regular occurrence. On this evening, however, the wind was so strong and so violent that these experienced sailors had lost all hope of survival. The waves were tossing them to and fro and water was filling the boat: They were going down! They cried out, "Teacher, do You not care that we are perishing?" Jesus, waking from His nap, got up, rebuked the wind, and said to the sea, "Peace, be still!" The winds died down and everything became perfectly calm. Then He turned and said to His disciples, "Why are you so fearful? How is it that you have no faith?" No doubt, they were still trembling as they said to each other, "Who can this be, that even the wind and the sea obey Him?" (Mark 4:35–41) This voice that all forces of nature bow to in holy reverence––should I not also respond to His voice with reverence, faith, and obedience? The result is peace in Him.
"The LORD will give strength unto His people; the LORD will bless His people with peace" (Psalm 29:11).